The troublesome BMW Service Interval Board:
Ranging through several of the vintage BMW car lines, can be found an electronic component that is called the Service Interval Board. This board's responsibility is to power and control the vehicle's tachometer, temperature gauge, economy gauge, Service LED readout, OBC power and OBC calculations.

After 15-20 years, the backup batteries on these boards begins to fail leading to intermittent or total failure of these systems. We have seen a total failure of all gauges, partial gauges, and individual gauges. OBC power and calculations will also be affected by dead or dying batteries.

For the E30 chassis, there were two versions.

1982-1986 early style boards with coding plug in rear of cluster, behind tachometer.
1986-up later style boards with coding plug in front lower right corner of cluster.

For other BMW chassis:

Please contact us directly at our contact page for availability or a repair quote. We repair ALL service interval boards.
What sets our boards apart from the competition?
Our Competition

Often meet minimum standards of replacement batteries.
Board is run through a chemical bath to remove protective coating, repairs made, and no coating is ever reapplied.
These guys do not promise their boards are ever tested before shipment to customers!
Charges inflated prices
Low experienced solder technicians perform repairs leading to premature failure.
Do not replace transistors! Ever smack your dash to get your gauges to work, its the transistors getting stuck!
SI board typically has around 15 transistors and voltage regulators.


Our SI Boards

All batteries, capacitors, voltage regulators, and transistors replaced.
We use OEM equivalent batteries that will match or exceed factory specifications.
Most SI boards have a protective coating to prevent oxidation. We perform all component replacement and repairs while retaining this protective layer.
Our boards are thoroughly tested for total functionality before each is granted a quality control sticker. ​
With over 15 years soldering experience, our boards and repairs are always performed using professional techniques.
Our repairs are always made following military grade specifications.
We offer a 3 year repair/exchange warranty on our SI boards!
An example of our competitors (top) and us (bottom) Our soldering quality is superior to the rest!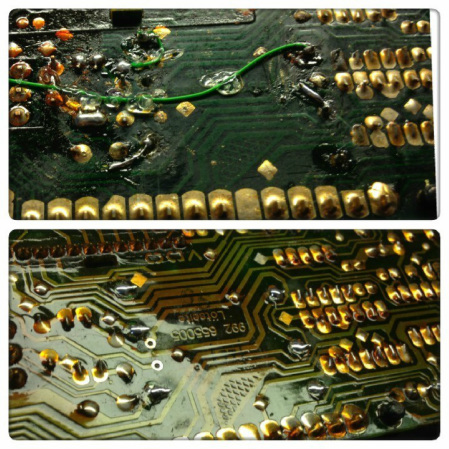 How do I know which board I have?
Please CLICK our Technical Articles page to learn more about the SI board and how to tell which one you have, more details into common failures, how to inspect your SI board for damage, etc. link - SI BOARD INFO AND TROUBLESHOOTING
For all other BMW SI boards, please contact us for availability or a repair quote on your board.

Please take advantage of our Buy-Back Program! We buy your old SI boards and AFM's! See "We Buy Parts" page.
.