Instrument Cluster Repair, Restoration, and Customization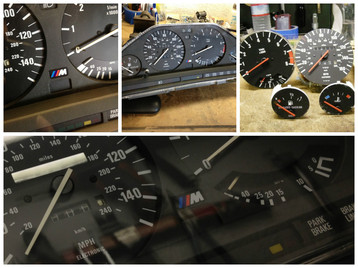 Bavarian Restoration specializes in vintage BMW instrument clusters. However, we can perform repairs,
​
restoration, and customization for many clusters and vehicles. Please contact us today for quote. BavarianRestoration@gmail.com
Repair only:
We will perform a complete disassembly, inspection and testing of your cluster and indentify all problems and solutions. Testing only available for BMW E30 and E28 at this time.
All repairs are done professionally using high quality military specification repairs.
All workmanships gauranteed for 3 years
​
Full Restoration:
Re-flow new solder on all exposed circuit traces. We also replace components that wear such as capacitors and transistors.
All instruments are refurbished.
New odometer gear set, we can also set your mileage.
All indicator bulbs and LED's are checked and replaced if necessary.
Primary Illumination bulbs are replaced with new high output versions!
Includes ALL required electrical repair.*
SI board refurbished - Including new batteries, capacitors, voltage regulators, and transistors.
High speed polish of clear front cover.** Also comes with protective cover to prevent scratches during re-installation.
All missing screws and hardware will be replaced if missing.
The cluster is fully tested to be working 100%
3 year repair warranty included!
*M3 clusters excluded due to the rarity and value of M3 cluster parts
**Please note instrument cluster gauge faces, body, and clear plastic cover have over 20 years of usage on them. We at BavRest try our best to restore these to near new condition but cannot guarantee absolute mint condition. Occationally, gauges and Si board will be permantely failed and will require a replacement core.
Service starting at $325 shipped!
---
Optional Accessories for your cluster build: